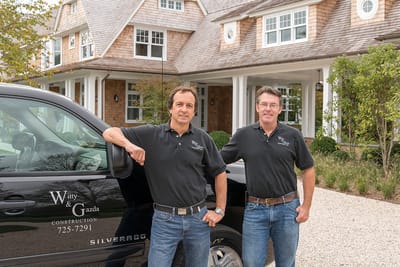 Knowledge. Integrity. Experience.
Witty and Gazda Construction specializes in high-end custom construction and has earned a reputation and respect for their knowledge and integrity in the industry. With combined construction experience of over 70 years, local builders Pat Witty and Jim Gazda have crafted exceptional luxury homes in the Hamptons for decades and are known by architects, designers and clients for their detailed and expert craftsmanship. Witty and Gazda can accommodate any project from minimalist modern to classic shingle. Whether a renovation, addition, or new construction, Witty and Gazda's expertise ensures projects are completed successfully to the highest quality.
For architects, designers and homeowners, the relationship with a builder is at the core of any successful construction project. This is where an accomplished, trustworthy and experienced builder makes all the difference. Witty and Gazda's professional team and highly skilled tradespeople will utilize every resource to ensure your project is completed with meticulous attention to detail and will exceed expectations.
"Quality is never an accident. It is always the result of intelligent effort. It represents the cumulative experience of many masters of craftsmanship." ~John Ruskin
Whether your project is in the planning stages or has bid documents ready to go, contact Witty and Gazda for a construction consultation. We look forward to hearing from you.